Nate Skipper
from Villa Tronco
Chicken Villa Tronco
Posted: 09/3/2013
INGREDIENTS:

Olive oil 1.5 oz
Boneless Chicken Breast 8 oz
Artichoke hearts 3 oz
Sundried Tomatoes 2 oz
Fresh chopped garlic .5 oz
Sherry 1 cup
Heavy cream 4 oz
Sliced mushrooms 4 oz
Flour 2 oz
S & P TT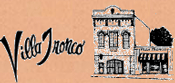 INSTRUCTIONS:

In a sauté pan begin to heat up the olive oil. Using the flour lightly flour the chicken breast and add to the hot pan. After the first side of the chicken is browned flip over and add the mushrooms, artichoke hearts, sundried tomatoes, garlic, ands& p. After the vegetables sauté for two minutes, add your sherry. ( note: If you're working over an open flame you will want to take the pan off the burner before you add the sherry, if not, light sherry with a match to burn off sherry )Add the cream and let reduce for four to five minutes. Serve with pasta or rice and salad.
Cook Time: