Tim Peters
from Motor Supply Company
The Devil's Chocolate Cake
Posted: 10/1/2013
INGREDIENTS:

Cake:
1.5 c dark cocoa
3 c water
1 3/4 c vegetable oil
3 c Flour
3 c Sugar
3.5 tsp Baking powder
1 Tbls Vanilla extract
4 Eggs beaten
Icing:
4 ounce Soft butter
1 c cocoa powder
1 pound powdered sugar
1/2 c half and half
*Mix all ingrediends in mixer until smooth.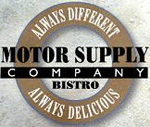 INSTRUCTIONS:

Bring the water, oil and cocoa to a boil in a sauce pan over medium heat. Stirring with a whisk to keep from scorching. The mixture should become thick. Remove from heat and let cool.

In a Large mixing bowl sift together flour, sugar and baking soda. Make a well in the dry ingredients and add the eggs and vanilla extract. With a rubber spatula slowly start to fold the dry ingredients into the eggs. Now slowly start adding the cocoa mixture and continue to fold the batter together. When everything is incorporated divide batter and place into three 8 inch cake pans. Place in pre heated 375 degree oven and bake about 25 minutes. Check with tooth pick, tooth pick should come out clean after piercing the cake.



Cook Time: