Branson Stafford
from Tombo Grille
Tomato-bacon Jam (served Atop Tombo Grille's Seared Diver Scallops Appetizer, With A Chiffonade Of Fresh Basil)
Posted: 12/3/2013
INGREDIENTS:

2 cups diced tomatoes
1 cup diced yellow onion
1 cup diced bacon (uncooked)
1 T chili powder
1 t paprika
½ cup light brown sugar
½ cup apple cider vinegar
1 T vegetable oi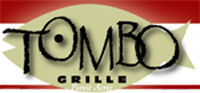 INSTRUCTIONS:

In a medium saucepan over medium-high heat, cook bacon until the fat renders. Add onion and tomatoes and cook until soft. Deglaze the pan with apple cider vinegar, reduce heat to medium and simmer until reduced by half. Add brown sugar, chili powder and paprika and stir frequently until the mixture thickens. Season to taste with salt and pepper.
Cook Time: