Freddy Lee
from Blue Fin
Seared Rare Tuna
Posted: 01/8/2014
INGREDIENTS:

fresh corn
grape tomatoes, halved
shitake mushrooms
chopped garlic
8 oz Sashima Grade Ahi Tuna
Salt and pepper to taste
extra virgin olive oi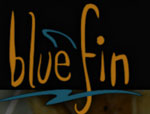 INSTRUCTIONS:

Saute vegetables together in olive oil until tender-crisp, then set aside. Season tuna and sear in an oiled pan over medium-high heat. Remove tuna from heat and rest for 5 minutes, then cut into 1/4" slices on a bias. Paint tuna slices with soy-orange chile sauce (see recipe below). Present tuna slices on atop vegetable saute.
Soy-Orange Chili Sauce
½ C soy sauce
½ C sweet rice wine
zest of ½ orange
¼ C rice wine vinager

Reduce liquid ingredients by half in a saucepan over medium-low heat. Finish with 2T toasted sesame oil, then whisk together with ¼ C light salad oil.
Cook Time: