Mark Mann
from Julep's Bistro & Lounge
Julep's Chicken
Posted: 02/5/2014
INGREDIENTS:

8 oz chicken breast
½ tsp salt
½ tsp garlic
½ tsp black pepper
1 tbsp olive oil
3 peppadew peppers, sliced
1 oz sliced mushroom
¾ cup cream
½ cup parmesan cheese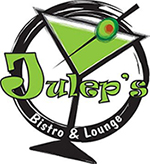 INSTRUCTIONS:

1.Marinate chicken with olive oil, salt, pepper and garlic for 1 hour in refrigerator, then grill until fully cooked.
2.In a saute pan, cook onions, peppadew peppers and mushrooms until tender.
3.Add cream to the pan and bring to a simmer.
4.Add parmesan cheese, then cook for 30 more sec.
5.Pour sauce over grilled chicken and serve with rice and fresh vegetables.
Cook Time: