Chef Roberto Alicea-Cruz
from Yesterday's Restaurant and Tavern
Vegetable Primavera
Posted: 06/28/2013
INGREDIENTS:

Start by making a basic cream gravy from 3 qts of milk, thickened with a flour/butter roux
1 Tablespoon of fine ground black pepper (add chicken stock as an option)
Then add the following to the cream sauce:
1/2 teaspoon of Dried Basil Leaves
1 1/2 teaspoons of Fresh Chopped Garlic
1/2 teaspoon of Dried Oregano leaves
2 oz finely chopped Fresh Red Bell Peppers
1/2 oz of finely diced Scallions
2 oz Dry White Wine
Fresh vegetables we use are yellow squash, zucchini, broccoli crowns, carrots, red or green bell peppers. You can use more or less of any of these vegetables you prefer.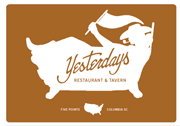 INSTRUCTIONS:

Slice all vegetables into bite size pieces. Remember the thicker you slice them the longer the sauté time. Place olive oil, 1 teaspoon of fresh chopped garlic into a sauté pan sauté vegetables until they reach the doneness you prefer.
Cook your the pasta of choice (linguine works best) according to the directions on the box Drain the cooked pasta place into a bowl, place vegetables over the pasta, and pour
the cream sauce over both and gently stir until all coated in sauce, then serve immediately. Garlic bread goes well with this dish.
Cook Time: