Ian Phagan
from Pawleys Front Porch
Pawley's Island Fripp Island Burger
Posted: 04/7/2014
INGREDIENTS:

2 cups fresh cowpeas
1 cup pineapple
1 tomato
2 bell peppers, diced (red, yellow or green)
2 jalapeños
1 small bunch scallions
1/2 red onion
1 vidalia onion
1 cup champagne vinaigrette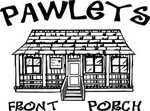 INSTRUCTIONS:

1.Boil peas until crisp-tender, drain and set aside to cool.
2.While peas are cooling, dice peppers, onions, tomato, scallions and pineapple.
3.In a large bowl, combine cooled cowpeas and diced fruits and vegetables.
4.Mix all ingredients together, adding champagne vinaigrette while stirring. Store in a sealed container and refrigerate overnight.
Cook Time: