Nate Skipper
from Villa Tronco
Posted: 09/3/2013


BIO:

As long as I can remember I have had an interest in cooking. Not just in the act of cooking, but in everything involved. My grandmother was the daughter of Italian immigrants who started a butcher shop in New York. Much of my interest in cooking was due to her influence. She kept her secrets in the kitchen, but I learned some old style Italian cooking recipes and techniques that I refer to today. Also, my father was in the Marines and we moved to a new state every two years. That gave me exposure to food from not only all corners of the country, but also some areas of the world.
My kitchen experience started with me as a dishwasher at Applebee's. I worked hard and began cooking everything I could, mastering the grill, flat top, and sauté areas. From there I moved on to a position at Blue Marlin under Brian Dukes, and learned as much as I could. I worked at Blue Marlin for a few years before I got a job at Dianne's on Devine, where I worked under Bill Prato for the next two years.
After Dianne's on Devine, I started cooking at Villa Tronco with Chef Tom Sedio. Over the next three years, I worked closely with Chef Sedio, and took over his position when he left the restaurant. Since then, I have been trying to live up to the standards set by every chef before me. This year we won the Free Times' Best of… in the Italian restaurant category. I want to add more awards to my resume hopefully starting with this contest.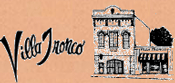 PHILOSOPHY:

"I like to start with fresh local ingredients and use a seasonal approach to make simple, quality made from scratch dishes that have a rustic classic feel and are also innovative and inspired."