Tim Peters
from Motor Supply Company
Posted: 10/1/2013


BIO:

Raised in rural New Jersey, Chef Tim Peters grew up hunting and fishing with his father and enjoyed fresh produce from nearby farms. At an early age, he learned the value of fresh ingredients and the importance of not wasting anything. After attending culinary school at Paul Smith's College in upstate New York, Tim traveled to France to attend classes at the famed Le Cordon Bleu in Paris. He worked for Chef Marc Meneau at L'Espérance, an esteemed three-star Michelin property in lower Burgundy. Tim's first job upon returning to the States was at the award-winning Grouse Mountain Grill in Beaver Creek, Colorado, under Chef Rick Kangas.
Later, he moved to Charleston, South Carolina, where he expanded his love of southern regional cuisine by working as sous chef at Anson for James Beard award-winning Chef Mike Lata (Fig), and beloved Chef Frank Lee at Slightly North of Broad (SNOB).
Tim considers two non-restaurant jobs as key in his evolution as a culinary artist. The first was a stint as a farm hand on an organic farm, The Green Grocer on Wadmalaw Island in South Carolina, where he learned how to be a steward of the land by raising crops and taking care of chickens that produced highly sought-after eggs for Charleston restaurants. At Charleston's O'Hara & Flynn Wine Merchants, he was able to enhance his knowledge of wine and food pairings to a remarkable degree. In 2006, Peters took over as Wine Director at Motor Supply and is pleased to offer a Wine Spectator-endorsed list of bottles hand-selected to complement his cuisine.
In creating each day's menus, Tim makes a conscious effort to highlight the bounty of local, sustainable farms and food artisans. Having labored on an organic farm, Tim understands well the extra effort required of farmers who avoid spraying pesticides on their produce and who forego using antibiotics and hormones in their poultry and livestock operations. "If we don't support these guys," he notes, "who will?" He has seen first-hand how hard it can be for the small, organic (or near-organic) farmer. "We feel that if we stick with these products, then it will pay off for everyone in the long run."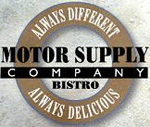 PHILOSOPHY:

"Get the best ingredients you can, and try not to screw them up."