Branson Stafford
from Tombo Grille
Posted: 12/3/2013


BIO:

Tombo Grille executive chef Branson Stafford took his first kitchen job at age sixteen, rolling out dough at a Sicilian-owned pizza shop in Gaston, SC. Stafford continued to work in the restaurant industry for the next six years. While attending Midlands Technical College, Stafford's advisor put him in touch with Rod Skinner, who hired Stafford as the chef at Cock n' Bull Pub when it opened in 2007. With his first chef gig under his belt, Stafford moved to Charleston to expand his skills in a restaurant with a larger kitchen and menu. Stafford worked at Nectar on James Island for a year and half, then returned to Columbia in 2008 and began working for Ricky Mollohan in the kitchens of Solstice and Mr. Friendly's, where he worked for about a year.
In 2009, Stafford's friend Brent Davis asked him to be the head chef and manager at Davis', the bar he was opening with his brother in the former Cock n' Bull location in Rosewood. Stafford ran the kitchen at Davis' for a year until the restaurant closed in late 2010, following the tragic death of Brent Davis in a car accident.
Stafford then took a job in Kristian Niemi's restaurants in 2011, first at Gervais & Vine, then Rosso Trattoria. Stafford worked at Rosso for a short time before moving to Tombo Grill, when former Tombo executive chef Andrew White offered him a job. White showed Stafford the ropes at Tombo Grille over the next two years. Then, when White moved to Charleston this fall, Stafford was promoted to executive chef at Tombo Grille.
"Now I can express more technical skills, and learn more in the process," Stafford says, of his new position as executive chef. "We cut whole fish here; we don't serve anything that isn't made from scratch. If we put something on bread, we have to make the bread," says Stafford. "I think I've found my home."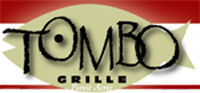 PHILOSOPHY:

"I try to apply food to life. You have to take the bitter with the sweet, and if you add a little love, it comes out savory."