Chef Roberto Alicea-Cruz
from Yesterday's Restaurant and Tavern
Posted: 06/28/2013


BIO:

Chef Roberto Alicea-Cruz was born in Caguas, Puerto Rico in 1935. Raised by his grandparents, Alicea-Cruz was introduced to the customer service industry at a young age in his grandfather's and uncle's cafetín.
"It was a little bar and grocery store together," says Alicea-Cruz, "like a small country store. We sold a few groceries and some rum. That's how I learned to work with people."
Chef Alicea-Cruz joined the army and served in the heavy artillery corps from 1956-1960, before he was stationed at Fort Jackson in Columbia, S.C. Without an artillery division at the fort, his career in food began when he transferred from heavy artillery to on the job training as a cook. Soon, Alicea-Cruz was working as a cook for the post commander. When the boss was out of town, he stayed busy by working in the kitchen at a Fort Jackson snack bar and the officers' club. Chef Alicea-Cruz continued working as a cook in the army for 15 years, including tours in Korea and Germany.
Alicea-Cruz retired from the army in 1977, but he kept doing what he loved with his first post-retirement job, at a little sandwich shop in Five Points called Lombardi's. A year later, the shop was bought out and became Yesterday's. Yesterday's owner Duncan MacRea jokes that Alicea-Cruz, or as he calls him, " 'Berto came with the building."
As the Five Points establishment celebrates its 35th anniversary this year, 78 year old Chef Alicea-Cruz can still be found upstairs in the prep kitchen, carving steaks and chopping collards every morning.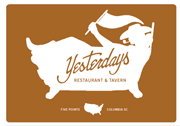 PHILOSOPHY:

"Cooking is an art. I love it when I cook something and it comes out 100% perfect. I just keep working until I get it right. And I enjoy it when people are eating my food and ask, 'who made this?' It's like I always tell my friends and coworkers, 'I like to hear compliments not complaints.'